Stylish uPVC Windows For Homeowners in Sutton
Find uPVC windows that are perfect for your home improvement project in Sutton by contacting Astral Direct today. We can introduce you to a wide choice of styles and customise your uPVC windows using a choice of colours, finishes, glazing and much more.
Our uPVC windows don't just look stunning, they deliver outstanding performance. Make your home in Sutton warmer and safer by choosing us as your preferred installer. Call or email us today to find out more or get a free online quote using our design app.
---
uPVC Windows From Astral Direct: Your Choices
When choosing the right double glazing for your home improvement or refurbishment project, you'll inevitably have questions. Which style is best? What material should I choose? Whatever your requirements, we'll have a solution that fits.
uPVC Window Styles
Choosing the right style is important. You want your installation to blend into your home, while also catching attention for all the right reasons.
Whether you want a modern looking or traditional design for your home in Sutton, you'll be able to find something suitable by exploring our range.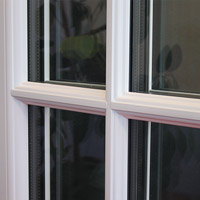 Casement Windows
Casement uPVC windows continue to be a popular choice for our customers in Sutton, and it's easy to see why. This style of double glazing opens outward and exhibits a neutral appearance that means it can be installed almost anywhere in a home.
A choice of colours and finishes will be available when customising your uPVC windows. Sculpted and chamfered profiles will be accessible to you too, as will a range of high-end security features that'll make your property in Sutton safer.
Tilt and Turn Windows
Keep your home in Sutton safer by choosing tilt and turn windows. This style of window can be be opened inward to let in passing breezes, while allowing you to go about your business – safe in the knowledge your property is better protected from intruders.
More glazing is used in tilt and turn uPVC windows, so you'll be able to enjoy better light penetration. The weather proof design of your double glazing – enabled by high-quality weather seals – will stop your installation from deteriorating over time.
Vertical Sliding Sash Windows
If you want to enjoy the benefits of a traditional timber box sash window, but without having to worry about the extra expense or additional upkeep, our beautiful range of vertical sliding sash windows will be perfect for your project in Sutton.
Our sliding sash uPVC windows offer stunning aesthetics and durability, while also performing across all important criteria. The double glazing we install in your home in Sutton will last for a very long time and repay your investment too.
Choose Your Colours and Glass
A World of Choice
Personalise your uPVC windows. Create profiles that match or tie-in with the design schemes used in your home in Sutton, so that the final product adds genuine market appeal and draws compliments from visitors.
Do you want an exact colour match? If so, then we can help. More than 200 RAL colours will be available to browse; a member of our design team will be on hand to help you make the right selection for your project, too.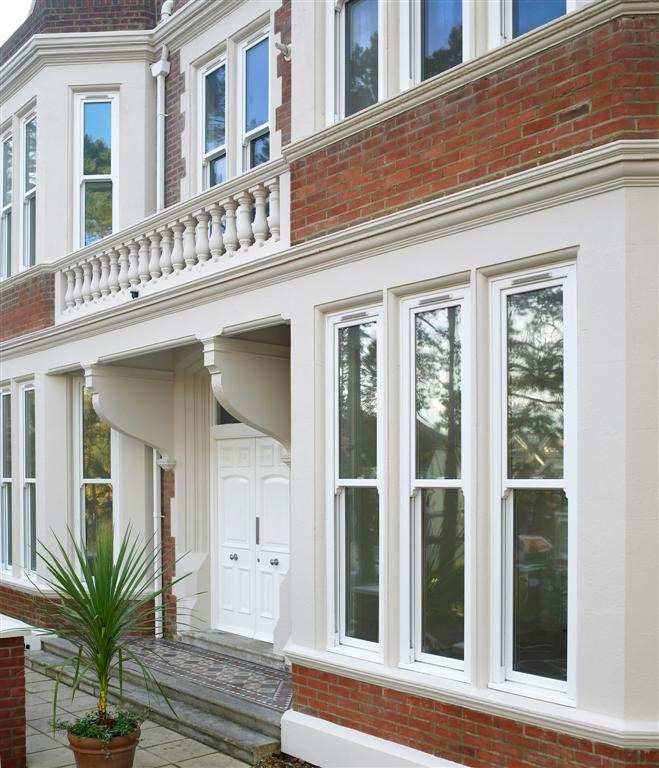 Many Glazing Options
Glass has a dual impact on a home. The physical appearance of your glazing will draw the right kind of attention if well thought through. Equally, your uPVC windows will need to deliver the right level of performance.
Our glass delivers on both levels. We use two recognised and respected glass manufacturers for our installations – Pilkington Glass and Planitherm Glass. You can also choose triple glazing without incurring further costs.
You can further enhance the appearance and behaviour of your upVC windows by choosing:
Performance Glass. We offer many options, each of which will reward you in different ways. For example, you can request an energy efficient option that will help reduce your energy bills and produce a lower U-value. Solar reflective glass is also available and an ideal choice for conservatories, garden rooms or glass box extensions – as it prevents such rooms from getting too hot during the warmer seasons.
Decorative Glass. The appearance of your uPVC windows can be modified depending on where your double glazing is to be installed and your design preferences. We can fit obscure glazing outside a bathroom area where privacy is essential. Georgian and astragal bars can be used to improve the look of your installation too. To uncover the full range of options available for your home improvement project in Sutton, get in touch.
---
uPVC Windows Prices, Sutton
Contact one of your design consultants to discuss your requirements more in depth. We will help with every aspect of the process to ensure you are happy.
For online uPVC windows prices, please use our free quotation tool. It takes just minutes to use and you can revisit it to get costs on a variety of other products.