Consumer Feedback 2021
28th February 2022

We aim to provide our customers with the best service and products possible. We work with market-leading suppliers and have undergone regular training to ensure we are the best at what we do. Our customers work with us closely to design double glazing that will be the perfect addition to their property in Surrey and the surrounding areas.
Our double glazing products have been designed and manufactured to boost long-term performance. From enhanced thermal efficiency to advanced security systems, you can't go wrong with our products. Our customers can improve the kerb appeal of their home whilst appreciating its modern performance.
The Consumer Protection Association carried out surveys throughout 2021 for our customers. These results are curated once our customers apply for their Insurance Backed Guarantee after installing their products. It is vital for us to see what our customers thought of our service and find ways to continue to impress.
The Results
The first set of results that we can see below is how the customers thought of our overall performance. It is good for us to see how we do as a whole. From quotation to installation, we want to ensure that our customers enjoy their experience with us here at Astral Direct. Please see below a breakdown of the results:
54% gave us an Excellent rating
31% scored us Very Good
11% gave us a Good rating
4% scored us Satisfactory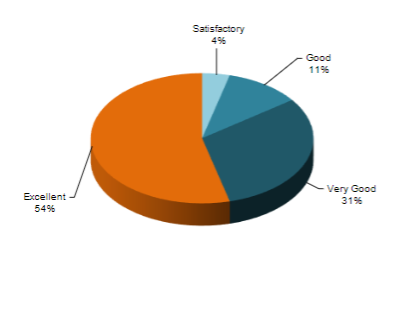 Our customers were also asked to appraise how they found dealing with a member of our team regarding specific issues. Customer service is a big part of our offering here at Astral. Home improvements are a big project, and we want to install double glazing that meets our customer's needs. We are here to help in any way that we can. The results were as follows:
Undertakings fulfilled = 100%
Worked Efficiently = 95%
Courteous & Professional = 98%
Recommend Company = 98%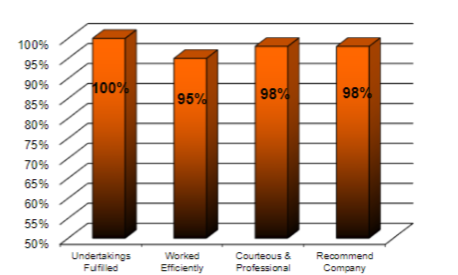 Takeaways
We are very happy that a high percentage of our customers gave us an Excellent rating. We appreciate any feedback when it comes to our service. In every part of our business, we always look for ways to improve our work.
The results for the second graph we are proud of. To have such a high appraisal across the four categories is fantastic. It is also beneficial to break it down into these categories so that we can find specific areas to work on.
Get in Touch
We want to thank our customers in 2021 and 2022 for their continued support. We love creating installations that will help homes across Surrey and the local areas. If you would like to know more about our double glazing products, please get in touch. Use our online contact form, or give us a ring on 020 8683 1234.
It is also very easy to start your next project with us. Use our handy online pricing engine to get your free no-obligation quote. All you need to do is enter your design of choice, house dimensions and contact information. You will then receive an instant estimate. We look forward to working with you on your next project.