uPVC Tilt and Turn Windows Sutton
uPVC tilt and turn windows are a fantastic addition to any property in Sutton. This is because of their sleek and fashionable aesthetic and outstanding performance, giving you excellent insulation and sense of security within your home without compromising on appearance. Don't allow your heating to escape through the tilt and turn windows and out of your home anymore, or leave the safety of you, your home and your belongings to chance.
Astral Direct offers a wide range of different styles of window for you to choose from, allowing you to find the right design for your property in Sutton and the surrounding areas today. Benefit from their thermal performance, enhanced security features, easy functionality and durability, while still retaining a stunning look that will complement your property.
Unique Design
A unique style of window, Tilt & Turn windows are made to both be easy to operate and allow for good ventilation, all whilst protecting your home from unwanted intruders. Tilting inwards and locking at a specific angle to prevent anyone from climbing in through them, creating a safe environment for yourself, your children and your pets. Easy to clean, Tilt & Turn windows can also be opened like a typical casement window.
Marketing Leading Manufacturers
We are part of Sternfenster's network of installers and also offer an incredible range of Deceuninck's uPVC frames. This allows us to provide you with a better standard of window that is expertly crafted to stand the test of time.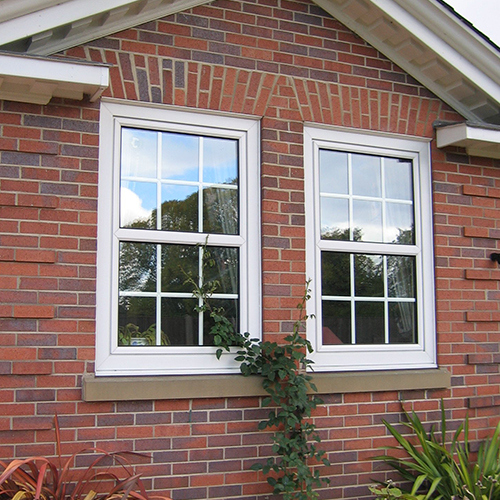 Benefits of uPVC Tilt and Turn Windows
These windows may be one of the newest additions to the industry, but that doesn't mean they're strictly for modern homes. In fact, uPVC tilt & turn windows can provide an array of benefits for both new and traditional houses.
High Performance
Our window profiles aren't just aesthetically pleasing but are also at the cutting-edge of double glazing and uPVC technology, ensuring that you feel safe, secure, warm and happy within your home in Sutton.
Thermal Efficiency
You'd be surprised at just how much of your heating is lost through your windows, because of less than stellar or old double glazing and uPVC. However, our windows feature multiple chambers hidden within the frames, trapping pockets of warm air and creating a barrier against the cold air outside your home. This, along with energy-efficient double glazing, will insulate your house properly against all kinds of weather, saving you a lot of money on heating bills.
Because of this, your house will stay warmer for longer and thus will stop you from having your heating on constantly. This not only lowers your heating bills but is also great for the environment as it greatly reduces your own carbon footprint.
But don't worry about the summer months making your home too warm, your new windows are highly adaptable and will also help to keep the heat out of your home if it is too warm outside. Live comfortably with your brand-new uPVC windows in Sutton.
What's even better is this works the other way around during those hot summer months. Your new windows will keep the heat out so that you can stay cool inside. No need to worry about the greenhouse effect, Live comfortably with our uPVC windows.
Top Security
All of the windows that we offer in our range come with multi-point locking mechanisms fitted as standard into the frames, with hidden security features giving you that important extra protection against anyone trying to force entry. Our double glazing can also be reinforced, allowing for even higher levels of security, so for more information please speak to our team today.
Why Choose Astral Direct?
As a business, we are accredited by FENSA, meaning we are also backed the Consumer Protection Association. This ensures we are a reliable company, give you reassurance that you are protected.
What's more, we are unique in that each member of our in-house team of installers are individually certified by Kitemark. This accreditation is telling of the quality of their installations. Astral is a name you can rely on for uPVC tilt and turn windows.
uPVC Tilt and Turn Windows Prices Sutton
Our uPVC tilt & turn window profiles are the perfect choice for any home in Sutton and the surrounding areas. So, if you would like to get a quote for your home, head on over to our free online quoting tool. Alternatively, if you have any questions about our range, our services of about any of our individual products, fill out our online contact form and we will get back to you as soon as possible.