Aluminium Bi-Fold Doors Croydon
Aluminium bi-folding doors are a statement addition to any Croydon home. Astral Direct has an extensive range of aluminium bi-fold door options and styles that allow you to create a dream design with ease.
With their unique opening mechanism and full glass panels, bi-fold doors offer incredible natural light while also retaining your home's inner heat. That way, you can not only add a new space that completely refreshes your home, but you can be sure that it'll be saving you money too.
At Astral Direct, we've been installing in Croydon for over 40 years. Thanks to our partnerships with major manufacturers like Smart and Origin, you can trust us to deliver a bi-fold door that has market-leading performance.
With our online cost calculator, we put the choice directly to you. There are thousands of options for handles, finishes and colours that'll give your new unique door a personal touch. That way, Astral Direct can get you a quote on a bespoke design to suit your home.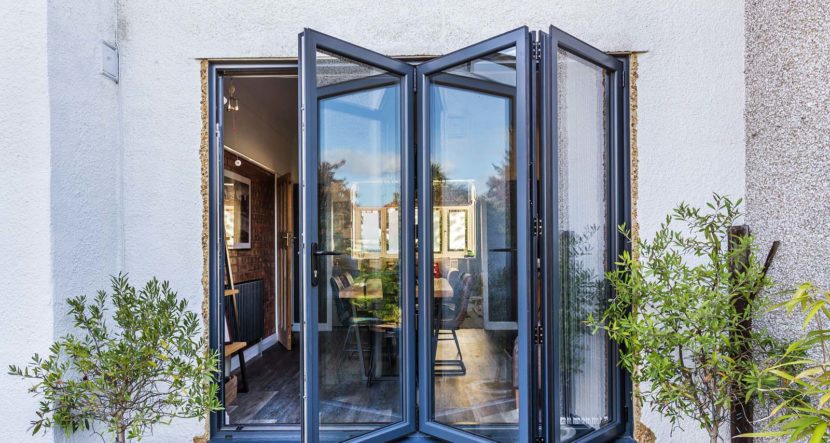 Folding Panels
Aluminium bi-fold doors are the height of both design and technology. Their innovative folding panels means that they'll stand out in any space, whether open or closed.
Bi-fold doors are popular with homeowners due to their innovative opening mechanism. Like a patio door, bi-fold doors use an in-line slider to slide away seamlessly, opening up your home to warm natural light.
Each panel folds in on each other, ensuring that when your door opens, you'll get a completely open view of your garden.
Aluminium Frames
Aluminium frames aren't just an excellent finish for your bi-folding door. This versatile material is fully weatherproof and incredibly durable. Aluminium is perfect for your home's security and privacy and will keep any intruder from getting into your home.
Aluminium is also slim and lightweight, perfect for easy opening. The material glows in the sunlight, giving your home even more warmth during those sunny days. With the slimline options we have available, you can retain expansive views from your bi-fold door and make it easier to open as well.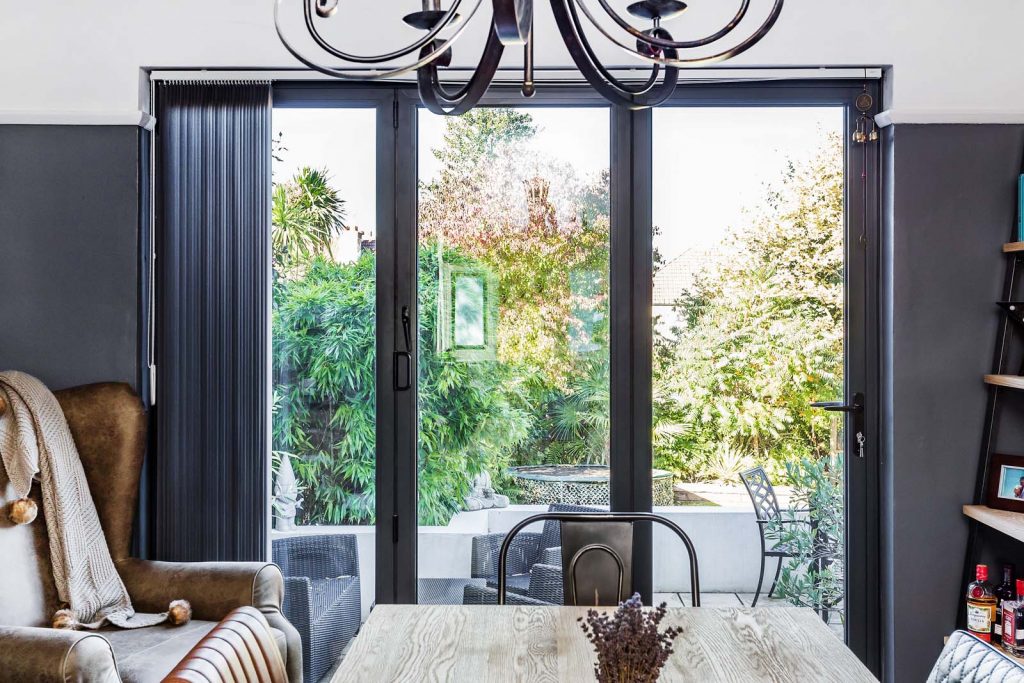 Benefits of our Aluminium Bi-Folding Doors
Aluminium bi-folding doors are guaranteed to provide consistent performance for years to come. Your Croydon home will experience the benefits straight away, from energy-saving to the look and style of your space. They're ideal for a homeowner who wants to make a quality addition to their space.
Longer Lasting
When you invest in improving your home, you want to be sure that what you buy will stand the test of time. Fortunately, our aluminium bi-fold doors are almost bulletproof.
Our aluminium bi-fold doors can outlast all kinds of conditions, and they won't rust underneath excess water. Their impressive durability makes an aluminium bi-fold door ideal for all seasons and will work no matter what weather you get in Croydon. With aluminium and robust double glazing technology, they're able to withstand wind and rain with ease, and they won't warp or twist in excess water.
At Astral Direct, we work with Origin to offer aluminium finishes backed with a 20-year product guarantee. We do this to give you peace of mind that your bi-fold door will continue to perform from the first day of installation.
An Energy Efficient Home
Aluminium bi-fold doors have spectacular energy efficiency, tight insulation, and incredibly low u-values. They're able to warm your home on even the coldest Croydon day and will keep cold air from causing draughts in your living space.
With aluminium bifold doors, you can make a huge step in reducing your carbon footprint and doing your bit to help our planet. With your doors from Astral Direct, your home won't be leaking energy out. From a more consistent temperature across your living space, you'll barely remember you even have central heating.
When it does get warmer, your aluminium bi-fold door can transform into a gateway between your home and your garden. They'll let in vast amounts of natural warmth and light, better ventilate your home, and let the summer come directly to you.
Fully Customisable
Astral Direct is committed to offering Croydon doors and windows that improve your home instantly. You can select from a wide range of colours, handles and finishes with our online cost calculator to create a unique design for you.
With thousands of options, the choice is entirely up to you. No matter what your dream aluminium bi-folding door looks like, we'll provide you with an instant quote. You can also keep in control during installation, as our trusted professionals will work around your busy schedule.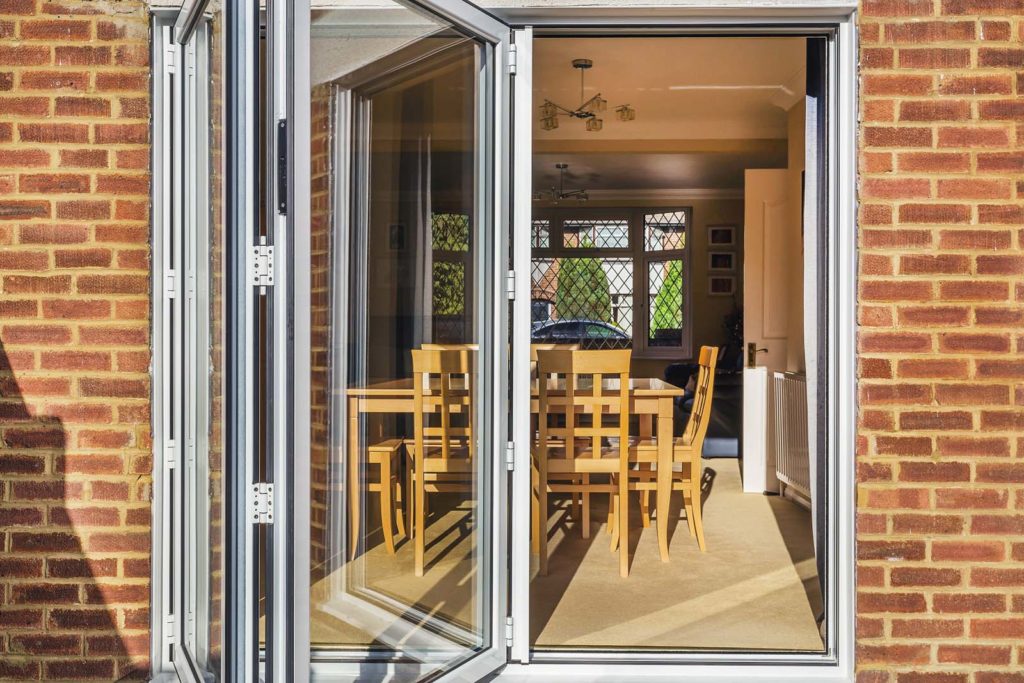 Why Choose Astral Direct?
At Astral Direct, we know just how much you want to make sure that an investment in your home is worthwhile. That's why we work with top manufacturers and only provide the best building materials available.
We've been doing home improvement installations in Croydon for over 40 years, and we offer a full turnkey service. Thanks to our installers, we can ensure that your aluminium bi-folding door will be made with love and care to fit your home perfectly.
Our services are accredited by Checkatrade, Kitemark and other regulatory bodies so that you can feel confident in our installations. We'll also fix any problems that may arise after installation, for greater security and peace of mind.
Aluminium Bi-Fold Doors Prices Croydon
Getting a quote for a dream aluminium bi-fold door for your Croydon home doesn't have to take long. Just use our online quote builder to access a vast array of customisable designs and finishes at competitive prices.
Alternatively, you can get a quote by calling us directly on 020 8683 1234 or leaving your details on our online form. When it comes to installation, you can be sure our bi-fold door installers will be able to answer any questions you have as well!
Make your Croydon home stand out with aluminium bi-fold doors from Astral Direct today!