Heritage Windows Kingston
For stylish aesthetics as well as superior performance, Astral's range of Heritage windows are perfect for Kingston properties. No matter the age of your home, these heritage windows with double or triple glazing can add a classic or modern touch, while still delivering security. You can enjoy the eye-catching design, as well as the assurance of reliable protection.
For over a decade, Astral Direct has supplied Kingston residents with superior fitting services, heritage windows and custom-made doors and conservatories. Our team of certified experts make sure you get the best quality product while staying up to date with the most competitive prices in the market. Enhance the look and appeal of your home with us today.
If your home needs to be preserved due to its location, our heritage windows would be the perfect choice. Add a classic, sophisticated touch to your home's extensions or orangeries with our specially designed frames, handles, and hinges. We are also promoting enhanced security measures, such as reinforced frames and locking mechanisms.

Benefits of Residence Windows
Incredibly Robust
At Residence 9, we have gone to great lengths to craft Heritage windows that combine both strength and aesthetic beauty. We have used the highest quality materials available to create robust frames that are able to withstand the elements. Our commitment to unparalleled excellence has been the cornerstones of our design process, with no compromises made on either strength or appearance.
The Kingston region offers some of the most exquisite heritage windows around, which is why investing in them for your home is such a wise decision. Every heritage window is designed and crafted to exacting standards to ensure it offers strength, durability and longevity. To guarantee the quality and build of these heritage windows, they undergo a variety of rigorous tests and inspections. Don't miss out on the chance to beautify your home, invest in a heritage window today!
Enhanced Thermal Performance
Residence 9's heritage windows combine classic design with contemporary technology for enhanced thermal efficiency. Their robust frames provide excellent insulation, making them energy-efficient, secure and resilient, so you can rest assured that your windows will stand the test of time.
Our heritage windows boast an impressive A+ thermal rating, allowing you to cut back on your energy costs and reduce your environmental impact. Thanks to their advanced technology, the windows keep cold air at bay while allowing warm air to flow and stay inside, so you can enjoy a comfortable home for extended intervals.
Double or Triple Glazing
Our Heritage windows provide A+ rated thermal efficiency, resulting in decreased energy bills and a lower carbon footprint. Their efficiently designed frames help trap cold air and keep warm air circulating in your Kingston home all year round, meaning a warmer and more comfortable environment for you and your family.
Regardless of the time of year, your contemporary living space can be kept at the optimum temperature. Additionally, double or triple glazed heritage windows will be provided to protect against any adverse weather effects and potential security risks.
Colour and Glass Options
Our heritage windows boast classic beauty that can be enhanced with thirteen individualized colour options, such as Grained White, Chartwell Green, and Golden Oak. Moreover, customers can customize the installation process including the glass inserts.
For those in search of a traditional style upgrade for their home, our selection of windows is the answer. A diamond leaded glass motif provides a timeless and stylish finishing touch. If a more modern look is desired, the Pelerine option is available to view at our store!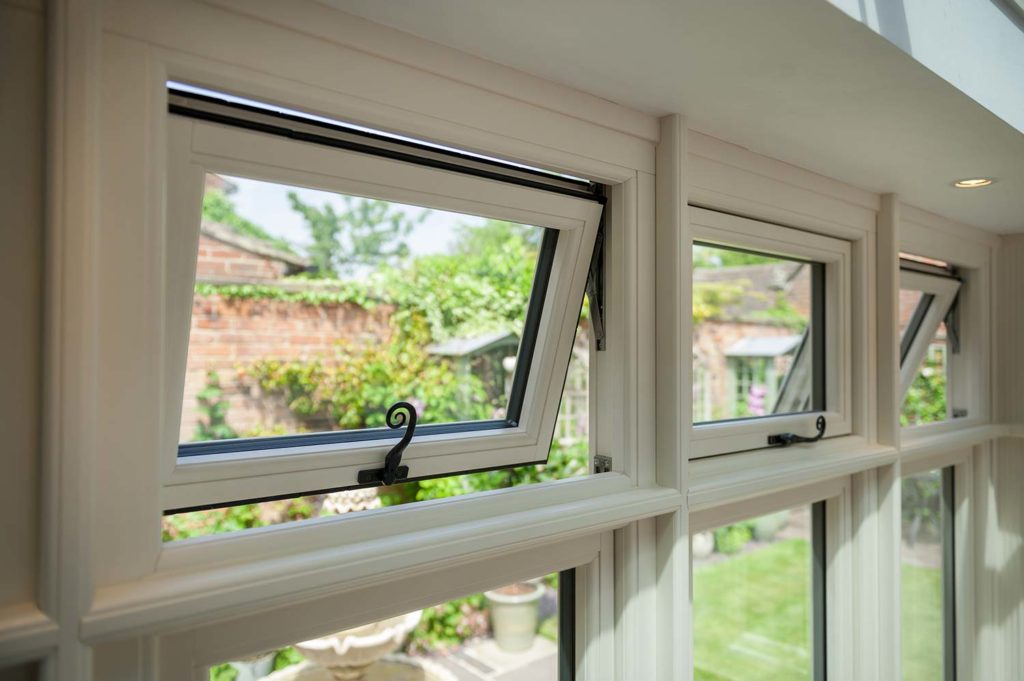 Why Choose Astral Direct for Your Heritage Windows?
You can trust that our window installation services will meet your highest quality standards. We offer a comprehensive experience that gives you the freedom to customize your Kingston property according to your own preferences. With our experience, we can provide informed advice and suggestions but ultimately give you the choice. Our process involves gaining an initial understanding of your needs, and performing effective insulation when the installation is complete. We aim to guarantee your satisfaction throughout the entire project.
We are proud to have been officially recognised by FENSA, Checkatrade and Certass, illustrating that when it comes to service, and product selection we are unbeatable. We provide you with a 10-year guarantee so you can be assured that our Heritage windows won't let you down.

Heritage Windows Prices Kingston
If you're in Kingston and seeking heritage windows, you've come to the right place! We provide competitive prices and a convenient online quoting system that enables you to get a precise price for your windows, no matter your budget. Check out our selection now and find the perfect windows for your dwelling!
If you have questions about our services, products or prices, we'd love to help. You can easily contact us by filling out the form on our website or by giving us a call at 020 8683 1234. One of our team members will be more than happy to answer any queries you have.