A conservatory is a cost-effective and enjoyable way to add light and space to your home.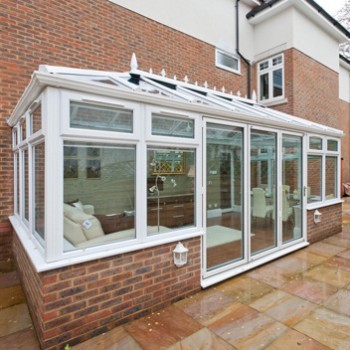 Edwardian conservatory
The Edwardian conservatory is probably the most popular as its versatility makes it suitable for most house styles. It has a flat-fronted style that offers excellent use of floor space due to the square or rectangular internal shape. Each side of the roof slopes back to the centre for a classic look.
Victorian conservatory
The Victorian conservatory has a distinguishing bay-fronted feature that gives the conservatory a soft, curved finish. The style of the conservatory is a much more classical and very popular when the conservatory is to be a real feature of the property.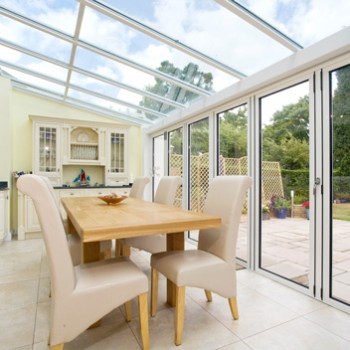 Lean To
The Lean To style is suitable for those who like a clean, understated look to their conservatory. The pitch of the roof can be tailored to match the pitch of the property with a low pitch for a bungalow or a steeper pitch for a terraced or detached house. A Hipped End Lean To, which has the same benefits of a Lean To, can give the conservatory a much softer look.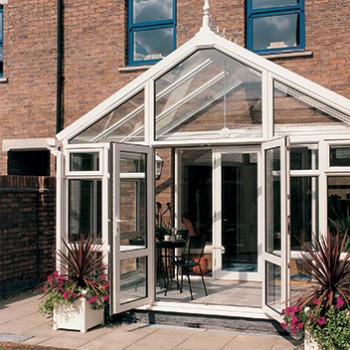 Gable
A Gable-fronted conservatory is the perfect way to add a sense of grandeur to a property. The front of the roof remains vertical, making for a very high roof that offers the feeling of space. The option exists to add a cartwheel or sunburst detail to the front of the conservatory providing the ultimate contemporary look.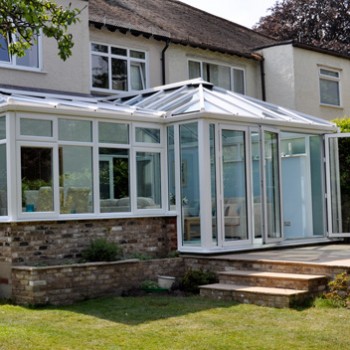 P-shape
If you are looking for something large and stylish, P-shape is the perfect solution, combining two styles of conservatory with a projection on one side. It's best suited to a large space where the room might be used as a dining area or family room. The P-shape can be specified as an Edwardian or Gable in style.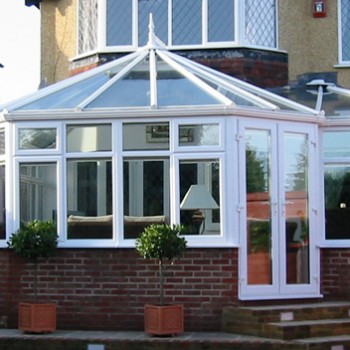 T-Shape
The T-Shape is a large and impressive addition to any home. It is suited to larger properties and is similar to a P-shape in that two different styles of conservatories can be combined. Rather than having a left- or right-sided projection, it is distinguished by a central projection that can be either a Victorian, Edwardian or Gable.
Our experienced designers will work with you to bring you the perfect conservatory to suit your requirements and budget.
Modern developments in glass technology mean that a conservatory is now an additional living space that can be used all year. Our experienced designers will work with you to bring you the perfect conservatory to suit your requirements and budget. Because most domestic conservatories are exempt from mainstream Building Regulations  and Planning permissions they can be designed and installed with the minimum of fuss.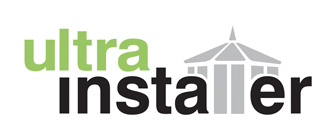 Can't find what you're looking for? Then take a look at these products.